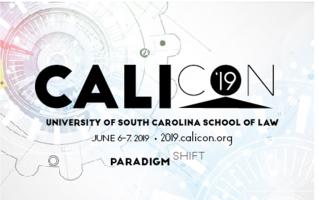 For over 25 years, The CALI Conference for Law School Computing® has organized its schedule to bring the most relevant and up-to-date presentations to attendees. This year is no different and we are looking for law school faculty, librarians, and technologists with strong opinions, great ideas, interesting projects, and useful advice. Come and share and be challenged. If you are willing and able to speak, your conference registration fee is just $95!
All sessions are 1 hour long with 30-minute breaks between sessions. Almost everything will be recorded and posted online.
To propose a session, just visit http://2019.calicon.org/propose-a-session/, log in (remember to create an account), and fill out the form. Sessions need to be submitted by Friday, February 15, 2019. All sessions must be submitted through the CALIcon19 website.
We are going to use community voting to help with selecting sessions again this year. Your votes let us know which sessions you would like to see on the conference agenda. Starting on Friday, February 15, 2019 voting will be opened and will remain open until Friday, March 1, 2019. The number of votes for a session will be taken into consideration as part of the session acceptance process and to help with scheduling. To vote you will just need to visit the conference website and vote for the sessions you would like to see on the agenda. You do not need to be registered for the conference to vote.
We will notify speakers via email by March 15, 2019 if their session is accepted. The listing of accepted sessions will be posted on the conference website on March 15, 2019.
Conference hotel and registration information are available at http://2019.calicon.org/ now.
CONFERENCE FEES
$295 for attendees from CALI member law schools
$695 for attendees from non-CALI member institutions
$95 for speakers from CALI member schools
$495 for speakers from non-CALI member schools
$Free for CALI Authors and CEB members
CONTACT